System Integration
JRI's System Integration Department analyzes client's management problems from many directions and provides a solution most suitable to a client on a one-to-one basis.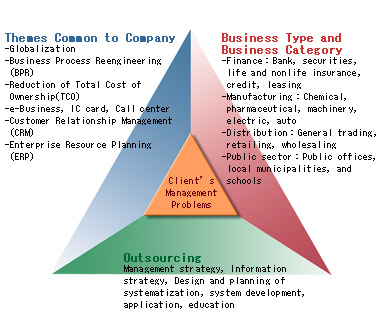 From overall consulting based on information technology to construction and application of a system ?
JRI's System Integration Department realizes information strategy that satisfies client's needs.
A comprehensive measure that solves client's management problems ?
This is the strategic outsourcing that JRI provides
Aims of outsourcing
Resource concentration in company's core business
Acquisition of best practice by utilizing expertise of external resources
Reduction and stability of total cost of ownership required for information system
Technology of highest priority, expertise, efficiency, economies of scale, changing fixed cost to variable cost
Improvement of service level, safety, and reliability
Activity Sample
Santen Pharmaceutical Co., Ltd..

Be the first to outsource enterprise resource planning in the pharmaceutical industry that is being globalized
Cooperative Association - NC NISSHOREN
Strengthens competitiveness in the increasingly competitive credit industry by selecting an outsourcer that has credit know-how
Japan Pension Navigator
Starting new business efficiently by employing strategic outsourcing